7 steps for an effective public safety communication campaign
While I was staying at my parents' in Northern France a letter in the mailbox caught my eye one morning. For the first time in 3 years, they were receiving an awareness guide in case of an industrial emergency in the area.
My parents live near an industrial zone where more than 20 factories are located including chemical plants and refineries. The "Port Jerôme" industrial site is classified as a Seveso site. It means it holds the risk of causing major-accident hazards involving dangerous substances. Several entities on the site are even ranked as high-risk Seveso.
To develop the culture of risk in the region, and following a serious industrial accident in Rouen in September 2019, local authorities have put together these guides.
Here are a few elements of the guide that I found great and that you could re-use for an effective public safety campaign:
Put a major focus on the design
The guide is 6-page long, colourful, and uses catchy visuals that attract the eye. Contrary to what we sometimes picture when it comes to industrial hazard risk awareness, the blue, white, and green colours are soft and reassuring. The whole document is also spaced out well and the font is modern. The result is that it encourages people to read it, instead of throwing it away.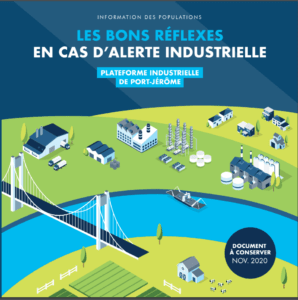 Use visual illustrations
To relay important information and instructions, the designer used graphic elements that facilitate the understanding and are visually appealing.
First, universal symbols (fire, explosion, toxic chemicals) depict each risk. The map and the table also provide a concrete illustration of what's important for residents. They show where the factories are located and how dangerous they are.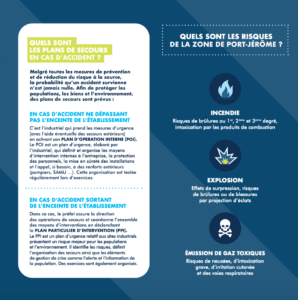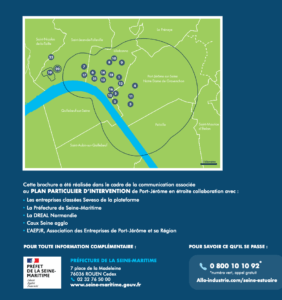 Opt for clear wording and short sentences
There are no unessential words in the guide, and everything is organised in short, sharp paragraphs. The written content of an awareness guide needs to go straight to the point. There shouldn't be any space for interpretation. For instructions, one word can be enough.
Ex: Do not phone / Take shelter.
Stay transparent
Industrial risks and chemical hazards are sensitive topics, especially for local residents who are sometimes reminded daily of the disadvantages of living near an industrial zone. However, hiding sensitive information from residents won't help you protect local communities from an industrial incident. A risk-aware, trained crowd is more likely to understand the urgency of following security protocols during an emergency.
In this guide, the table reveals the activities of each plant and the type of risks associated.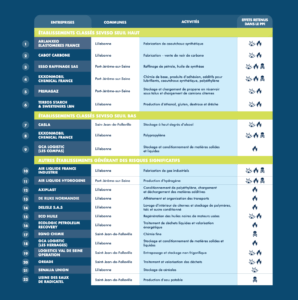 Be conscious of your audience's needs
The local authority also provided a magnetic card summing up the 4 steps to follow during an industrial emergency. That way, all residents can keep it on their fridge and refer to it whenever they need.
Think about the basics
Contingency plans evolve along the years, so don't forget to date each guide you produce and provide an emergency number that people can reach out to if they have any questions or worries.
Maximise the reach with social media
None of the local authorities posted the guide on social media. However, it would be good to encourage local accounts to posts the guide on their social media page.
For the Port-Jerôme industrial zone, the regional authority regularly posts reminder of the emergency siren test, to keep residents aware of the omnipresence of the risk.
[Rappel] ?Comme chaque premier mercredi du mois, le fonctionnement des sirènes du Système d'Alerte et d'Information des Populations #SAIP va être testé ce jour à 11h55 #SeineMaritime pic.twitter.com/koLaOGANJy

— Préfet de la Normandie et de la Seine-Maritime (@Prefet76) January 6, 2021
This guide proves us that proactive safety messaging can be impactful and effective. It is also a good reminder that traditional methods have their place still, especially when you need to target a very local audience.
Follow @socialsimulator and let us know what you think