Digital Humanitarian Network – a network of networks for digital volunteer organisations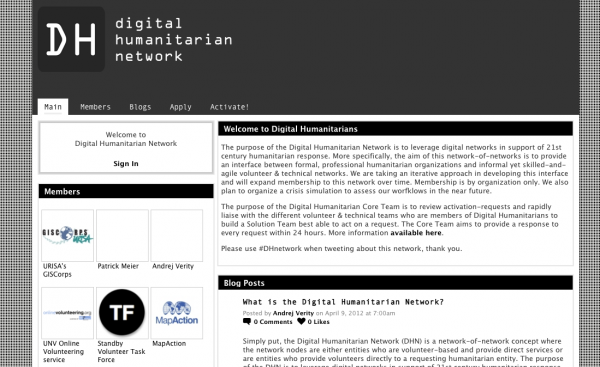 The Digital Humanitarian Network (DHN) is a 'network-of-networks' concept that aims to leverage digital networks to a '21st century humanitarian response'.
It looks like a great idea and I've often wondered if a network that could provide a better interface between charities and humanitarian organisations and the myriad of volunteer tech networks out there might be needed.
In his post about launching the network  Andrej Verity points out that there have been:
countless instances over the past couple of years [where] traditional entities have discussed how they can engage with the digital humanitarian volunteer community. These entities are not sure of what volunteer/tech entities really exist, what services can be provided, or how to activate many of the groups.
There are a number of well recognised volunteer organisations that have already signed up to the initiative including
Other volunteer groups that would like to become members will need to fill in a
membership request form
– it looks like the management group for the site is still quite small (understandably) so membership of the network will be updated on an iterative basis every three to six months.
It will be interesting to see how this develops and if a network of networks can help provide the support needed in times of crisis.
Follow @socialsimulator and let us know what you think