Don't panic! Laugh it off.
Misjudged humour can often leave organisations with egg on their face(book). It may be that you didn't realise something had a double meaning, your halo has never slipped – or it could be that you didn't read your post back out loud before hitting publish.
There have been a few recent examples of people either knowingly publishing risqué content or innocently blushing and denying their knowledge of their content's alternative connotations. With this in mind, when asked for a post on double entendres I thought I'd better give you one (ahem).
Pre-SuBo
Back in 2012, Susan Boyle's social media team caused a seismic shift in the way people viewed hashtags (and Susan herself) with the hashtag
#susanalbumparty.
Major discovery:
#susanalbumparty was real! But it wasn't this week; it was sent on October 30 (and quickly corrected): pic.twitter.com/W4iCzv4F

— Is Twit Wrong? (@IsTwitWrong)
November 21, 2012
Closer inspection of the tweets by @IsTwitWrong revealed that the hashtag was spotted by her team and deleted, before being replaced with the more sober #SusanAlbumParty – although the capitalisation does nothing for the Twitter search it does help us read it as intended. What this incident proves is that nothing is ever truly deleted from the internet. If that tactic doesn't work then we could always encourage our audiences to stop tittering and grow up.  
Your mum
Penguin Books' social campaign for Mother's Day was a fest of nostalgia, taking many people back to their schooldays. But this was not an overly sentimental, sepia-tinged idyll but a more crass callback to playground humour. The publisher's innocent request to tweet for gift recommendations was somewhat sullied by their use of the hashtag #YourMum – the punchline to many a joke.
It so happens that no one knows books like we do, and as no one knows #YourMum like you, we thought we might recommend some bookish gifts. — Penguin Books UK (@PenguinUKBooks) March 9, 2015
And jokes followed…
The best thing about @PenguinUKBooks #YourMum campaign? They're doing it EVERY LUNCHTIME this week. Just like, you know, #YourMum

— rachelmillington (@rachmillington) March 9, 2015
Penguin's masterful responses and knowing tone suggested they knew exactly what they were doing with #YourMum. They knew it would trend and draw further attention to their campaign. Others still believe it was an accident that was well-handled and a social crisis averted.
Thanks for pointing our #YourMum has an alternative meaning you guys! Now back to the books… — Penguin Books UK (@PenguinUKBooks) March 9, 2015
Thanks for taking part in today's chat dear readers – your contributions have been varied, your pun game, strong.

— Penguin Books UK (@PenguinUKBooks) March 9, 2015
What? It's for storing bananas, obviously
Groupon admitted that they knew the suggestive Banana Bunker would be received well by their many Facebook fans and planned their responses well, making sure to reply to comments with a straight face. The result was their most popular post ever.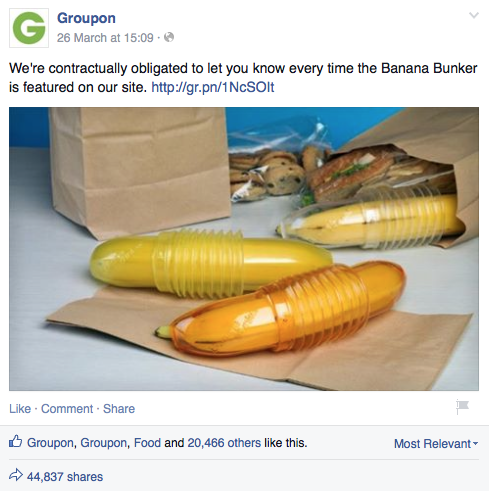 Knowing what's coming certainly lets us plan how to handle comments and make the most of the attention often drawn by risqué campaigns.
Steamy firefighters
London Fire Brigade capitalised on the building excitement ahead of the Fifty Shades of Grey release to share important messages about avoidable callouts.
Their tweets and Facebook posts made the most of image sizing to encourage curious followers to expand images and share excellently crafted content.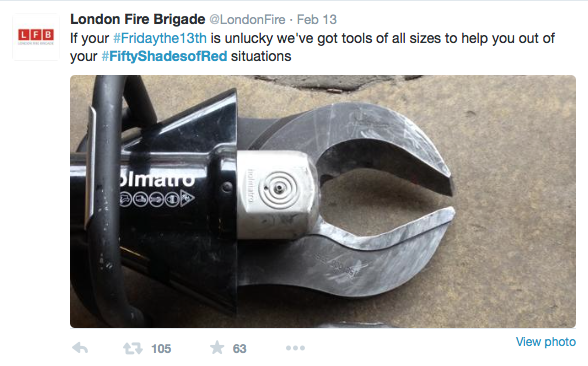 While this is a risky tactic to employ for a public sector organisation LFB certainly managed to pull it off.
If your #Fridaythe13th is unlucky we've got tools of all sizes to help you out of your #FiftyShadesofRed situations pic.twitter.com/wsM2xRWVjh

— London Fire Brigade (@LondonFire) February 13, 2015
Follow @socialsimulator and let us know what you think