Girlfriend uses Twitter to save boyfriend from carjackers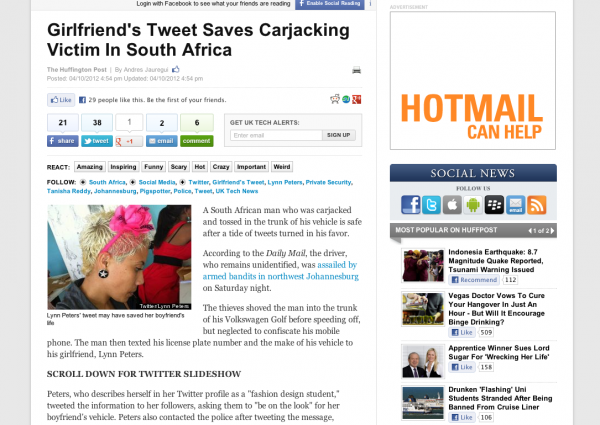 An interesting article over on HuffPost this month about Lynn Peters who successfully managed to raise the alarm after her boyfriend was carjacked and then kidnapped in South Africa.
Following a number of re-tweets her request went viral and private security companies in conjunction with Riga Rescue (a volunteer-run emergency service) helped pinpoint the location of the car.
According to The West Australian there were 10,600 carjackings in South Africa last year, down from a high of 14,900 in 2008.
We're not sure if this example shows the power of twitter in a crisis or the state of South African emergency services. Either way it seems like a good idea to keep your mobile phone charged and at the ready when driving in South Africa. You just never know when you might need to tweet…
Follow @socialsimulator and let us know what you think