Predicting the spread of disease from tweets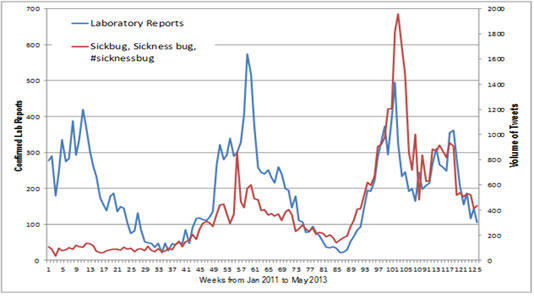 James Baker from the Food Standards Agency, the UK agency which regulates food safety issues, blogs about a fascinating project his team has been undertaking, mapping the spread of reports of sickness on Twitter and comparing them to lab reports of illness:
Beyond answering questions and concerns, providing updates quickly during incidents, and raising awareness of dangerous substances and food alerts, we've discovered how we can go even further and use social media to warn us of what's on the horizon.

We recently carried out some research to learn more about how our social media listening could help give us an early warning of norovirus outbreaks (aka the dreaded winter vomiting bug).

We looked at Twitter data from the last big outbreak hunting for spikes in symptom key words and related terms that were being used in tweets, and compared them with the number of lab confirmed norovirus cases for the same periods.

Not only were we able to accurately pinpoint the most common symptom keywords being used, we also found a number of high correlations between the tweets and lab reports themselves.
Read the full post over on the FSA blog
Follow @socialsimulator and let us know what you think