Virtual training and simulation exercises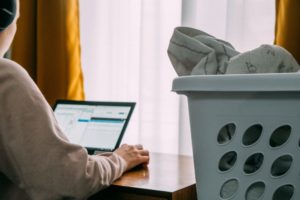 Given that our Social Simulator and Crisis90 platforms are online they can be accessed by participants from anywhere in the world – as long as they have a secure internet connection.
Not only are the services delivered online but we are seasoned at delivering engaging, interactive sessions using platforms that bring different situations and challenges to life much more powerfully than a webinar or conference call.
Why simulate virtually?
The chances are the first stages of a crisis you face will be managed remotely rather than conveniently around a conference table. A virtual exercise tests your team's ability to mobilise and work effectively under pressure over voice and digital collaboration channels.
A simulation keeps a scenario private and secure and helps the team learn, trying new approaches or strategies and getting feedback in a supportive environment.
The focus is practical: making decisions and completing actions, rather than just talking issues through.
Our platforms, combined with your real-world collaboration and conferencing tools, help test your infrastructure and the team's ability to collaborate, while keeping the exercise behind closed doors.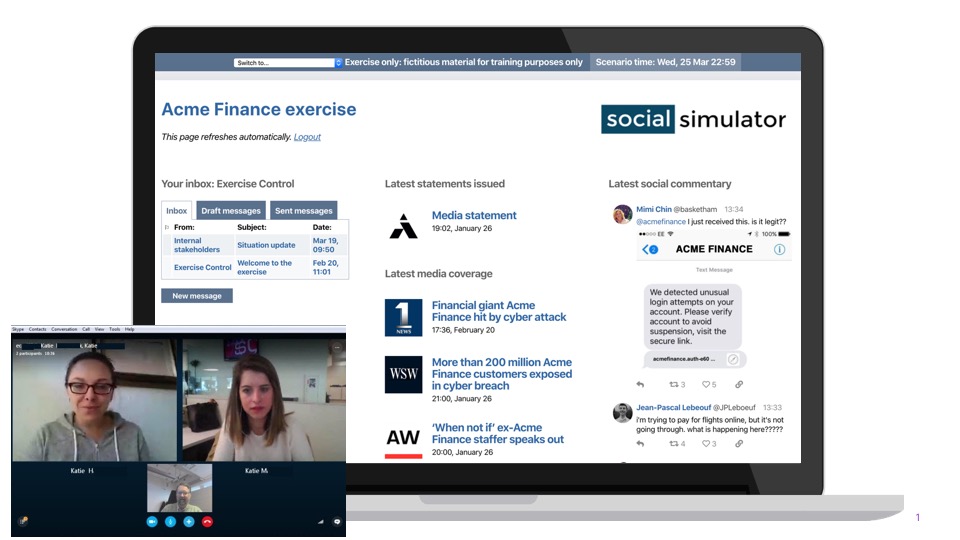 Navigating current challenges
The current global pandemic of COVID-19 and the effective shutdown of travel and large sectors of the economy is an unprecedented public health and economic challenge.
In terms of organisational reputation and resilience, it raises issues which several of our clients are keen to exercise:
Fast-moving misinformation and rumouring across social media channels
Incapacity or death of a senior leader in the organization
Simultaneous illness of 20-30% of the workforce
Severe disruption to business operations and supply chain
Rise of phishing, scams and other cyberattacks targeting vulnerable staff working in unfamiliar surroundings
Reputation-threatening allegations of poor treatment of staff or suppliers, or of perceived selfishness by senior executives
Preparing for what comes next
As important as working through challenges in the near-term, is thinking through how the organisation can be ready to recover effectively and return to business-as-usual smoothly over the coming months.
Some of our clients are booking planning workshops to explore the following issues:
Meeting the demand for information and support from internal stakeholders including staff as part of the return to work
Planning for different recovery scenarios, including differences by sector, region and potential further 'lockdown' situations
Financial, moral and social issues relating to deciding when to restore normal operations
Logistical and practical challenges if demand surges
Operating in "the new normal" to reassure stakeholders the organisation is prioritising safety and can adapt nimbly if the public health landscape changes
Organisations that are exercising virtually

Find out more about our platform in this 90-second video tour:
To find out more about how we can support your organisation with a virtual training session please get in touch at [email protected]