Social customer service at Essex County Council
Essex County Council are early adopters of social media for sharing important messages and promoting services.
The Council had begun to respond to individual comments and questions directed at their Twitter and Facebook channels. Taking this step is no mean feat. Essex is one of the largest counties in England by number of residents, has a diverse population, infrastructure and different layers of local and county-wide administration and responsibility.
This means questions to the Council's Customer Service Team cover all manner of topics, from weather, schools or roads, to care services and libraries.
Sharing responsibility for social media
The front-line Customer Service Team have accrued a huge bank of corporate knowledge, and when they don't have a ready answer, they're quick to find one. This meant they were well placed to take on the role of responding to residents on social media. The Council shared responsibility for these channels with the Customer Service Team, who embraced the challenge.
We helped the team build their confidence and skills by running a workshop to explore different situations they may encounter and discuss options for responding.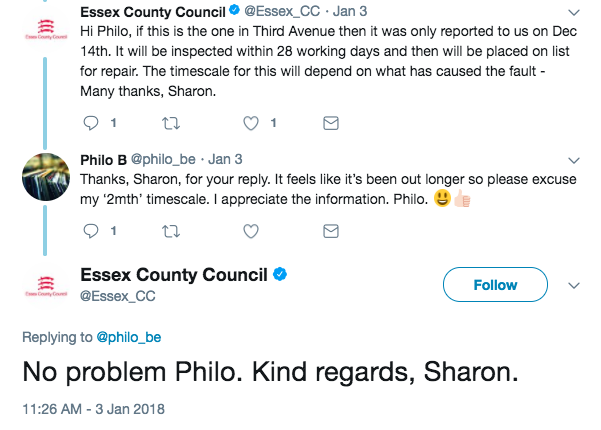 Using our Crisis90 platform we took the team through a real-time, phased crisis scenario. This gave them the opportunity to practice monitoring, planning and live Twitter responses. Our fictional residents were tweeting questions at them, all within a private online environment.
Skills building in the workplace
Each member of the team also took away a Digital Action Plan. Each plan had 6 goals to complete online in the 2 months following the workshop. This helped consolidate their confidence after the workshop had finished, while they launched online customer service. Each goal has a task for them to complete, to encourage them to get hands-on with a new tool or technique.
Confidence and experience among the team were mixed when we first met. However, it's clear that with guidance, support and encouragement they are the best team for the job.
Empowering a team in this way helps develop new skills, and reveals passion for their work.
Essex's social media feeds are testament to the pride they take in helping residents. Most days you can see responses to questions or comments that would have gone unanswered, online, a year ago. We're especially pleased the team choose to share their first names at the beginning and end of Twitter and Facebook shifts.
Essex County Council on Twitter
Essex County Council on Facebook