Using Twitter in a Crisis – Media Settings and Best Practices
If you have people 'on the scene' at a crises event and they are uploading photos or video that some viewers may find disturbing do you have an obligation to mark the content as sensitive? If you don't, are you planting the seeds of another issue you will have to respond to?
I was playing around with twitter settings last week and came across the Twitter Media Settings and Best Practices section on the Twitter Help Site.
Many of you have probably been spammed with content that's not appropriate for a r/t and blocked the sender. What I found interesting in looking at the media settings was a third option I hadn't seen previously: you can flag your own images and videos as sensitive.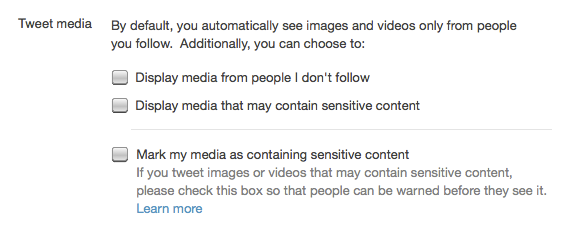 Mainstream television media has, for many years, alerted viewers to a number of issues with content they are about to see. Warnings for people with photo sensitive epilepsy (normally a door step interview with lots of flash photography) to 'some viewers may find this content disturbing' (usually conflict or disaster related imagery) abound in news reports regarding crises.
Whilst twitter is an effective two way engagement tool the broadcast elements for a brand, emergency service or government organisation remain. I'm not entirely sure if marking content as sensitive defeats the immediacy of being able to broadcast imagery using twitter, but if time permits and you feel your audience would appreciate the 'heads-up' it might be something to consider.
Follow @socialsimulator and let us know what you think