Team
We've been simulating crises in social media since 2010, working with a range of public and private sector clients in the USA, UK, Europe and around the world. We've helped to run exercises in the UK, USA, Singapore, France, Netherlands, Germany, Italy, China, Japan, India and UAE.
As well as our core team, based in the City of London and in the Flatiron district of New York City, we also work with a wide range of associates from government and industry. These specialists bring deep sector knowledge and/or foreign language skills to specific exercises as required.
We work direct with clients, and are also geared up to work in partnership (including on a white-label basis) with PR, crisis and social agencies, blending our platforms and insights with your team's to make a compelling offer for clients.
The Core Team
Chris Malpass
Chris is an expert in crisis and reputation management and leads Social Simulator in the USA. He has worked extensively in the field of crisis communications, helping organisations from across sectors to develop, embed and test crisis preparedness programmes.
Prior to joining The Social Simulator, he worked for Regester Larkin, a specialist crisis and issues management consultancy. Chris delivers regular lectures on crisis communications. He has an MA International Public Relations from the Cardiff School of Journalism.
Tim Lloyd
Tim has led digital communications teams for the UK Government, and has a background in journalism, business and customer publishing.
He has worked on digital response during health epidemics, industrial disputes and major institutional reform. In the past year Tim has led digital training programmes for rapid response teams in the energy sector, as well as personal coaching for senior leaders and public sector teams.
Tim believes all organisations should be using the web for greater accountability to their customers, and with a human voice.
Kate Rawlins
Kate's a former government press officer from Brisbane, and has worked across crisis communication coordination, event management, community and stakeholder relations, media advisory and corporate social media management. She leads exercises and provides training and support to our clients.
Alasdair Dick
Alasdair works on building digital capability and delivering crisis training programs to a wide range of clients across the world.
He has helped charities to design communications strategies, delivered digital communications in central government, and developed digital products for a publishing house. He is particularly interested in the role that communications can play in responding to humanitarian crises.
Steph Gray
Steph is a digital communications specialist with extensive experience in training and testing teams in managing social media in a crisis.
Prior to founding The Social Simulator he was Head of Digital Communications at the Department for Business, Innovation and Skills. Steph is a regular speaker and trainer on social media crisis communications and reputation management. Steph has a degree in Philosophy, Politics and Economics from the University of Oxford.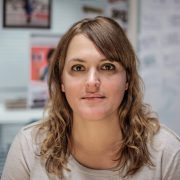 Nairi Martirosyan
Nairi brings research and logistical skills to our exercise preparation and delivery, ensuring exercises run smoothly and are tailored to client objectives.
Howard Gossington
Howard is one of our associates, supporting the core team with exercise preparation and facilitation and role-play. Formally trained as an actor and voice-over coach, he's also worked extensively in digital communications in editorial and publishing roles and as a social media trainer.